DESIGNED TO PLAY BETTER
THE BEST PICKLEBALL PADDLES
Because you don't just play, you play better. You strive to improve in all aspects of life. Putting in the time to train, perform, and create those good times with others.
With Holbrook, you play better.
Pro Series
The Holbrook Pro paddles permits extreme power and spin while keeping a controlled touch. This paddle delivers enhanced performance for elite players. 
Performance Series
The Holbrook Performance Paddles combine power and control giving you the best hybrid paddle. As part of Holbrook's Performance Series, these paddles are designed for beginner to advanced players looking grow their game.
Sport Series
The Holbrook Sport Paddles provides a durable consistent pop with a large sweet spot. As part of Holbrook's Sport Series, designed to give you a consistent, comfortable hit.  Built for beginner - intermediate players looking to grow their game.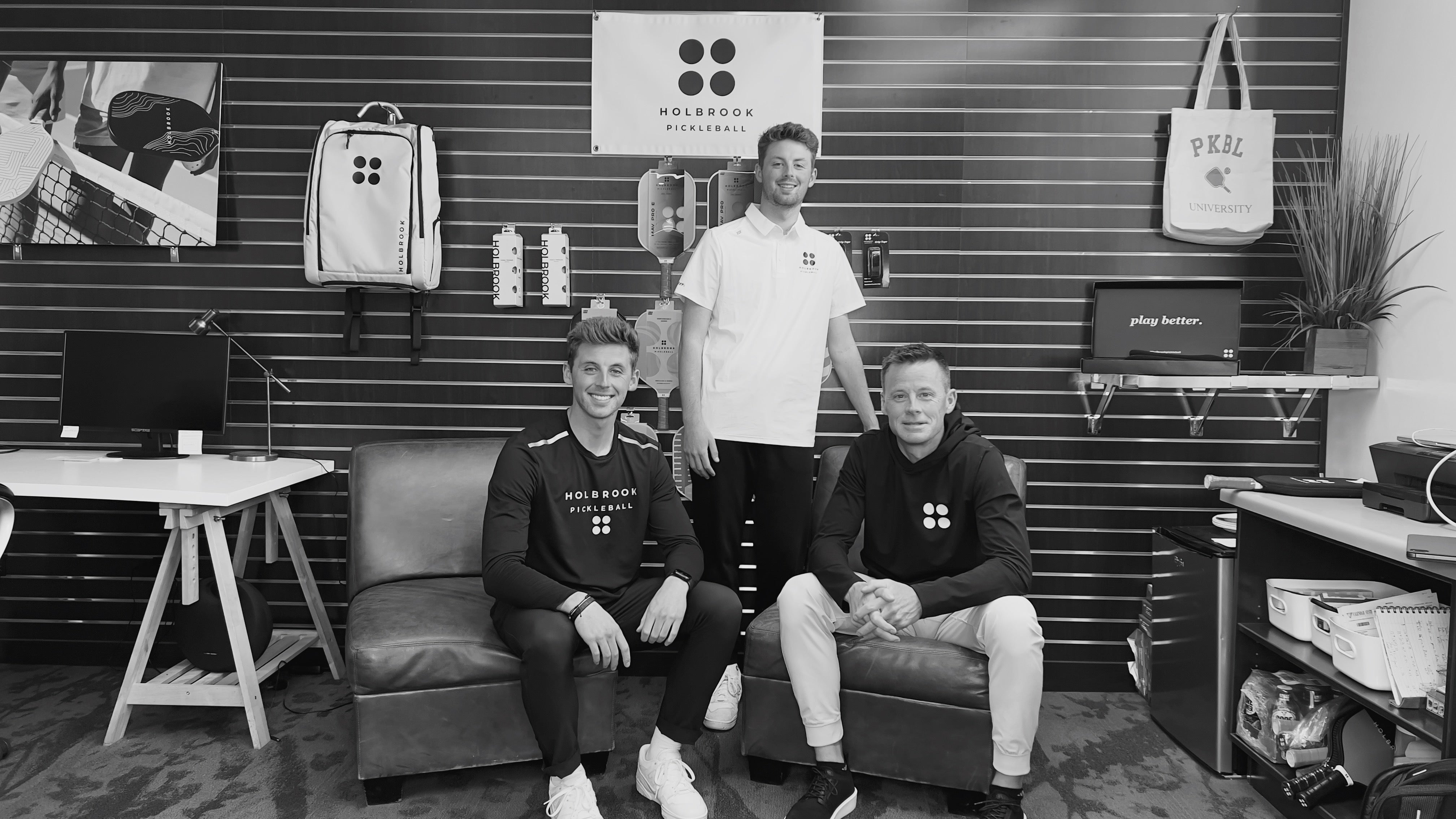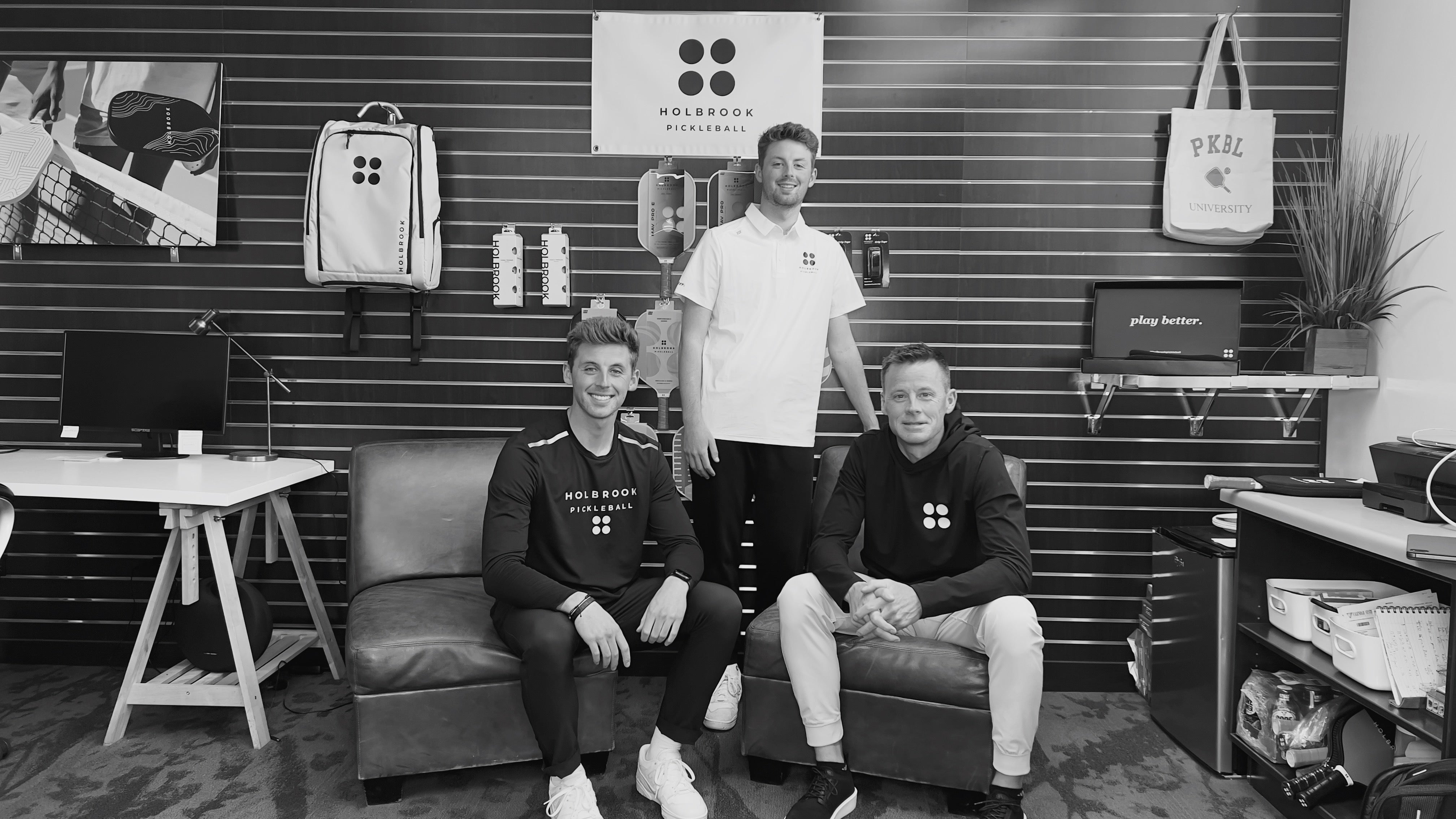 It's a "Family Game"
Meet the Holbrooks
Holbrook Pickleball, established by brothers Breygan and Kasen, together with their father Brody, stands as a pioneering pickleball brand that seamlessly merges innovation and style in paddles designed to excel at every skill level.
Learn More
REDUCED VIBRATION & PERFECT FEEL
Our Unibody Edgecraft foam and Force-tec Carbon Fiber through the handle brings maximum feel to each shot.
EXTREME POWER
Our Unibody Force-Tec Carbon Fiber permits extreme power and cutting edge spin enhancing your performance.
ULTIMATE TOUCH
Our Unibody Edgecraft Foam Injected Core elevates ultimate touch and sweet spot all while reducing vibration.
Let customers speak for us
Our Frequently Asked Questions
FAQ
Answered by our team & customers !
What factors should I consider when choosing a pickleball paddle?

There can be many factors in choosing the right paddle for you including: Paddle weight, materials, shape, thickness, and grip size.  Every person has a different style and way of playing, which is why we've created a paddle to fit each type of player depending on skill level.

Pro Series: Designed and engineered for advanced and professional players, Holbrook

Pro Series Pickleball Paddles feature the latest in cutting edge paddle technology.  

Skill Level: Advanced to Pro

Performance Series: Designed for players at all skill levels, Holbrook

Performance Series Pickleball Paddles combine ultimate power and control, ideal for

those players looking to grow both their game and style.

Skill Level: Beginner to Advanced

Sport Series: Designed for new players jumping into the sport, Holbrook Sport Series

Pickleball Paddles provides a large sweet spot with a consistent, comfortable hit.

Skill Level: Beginner to Intermediate
What is the ideal weight range for a pickleball paddle?

The weight that fits your play style might differ significantly from one player to another. Our paddles weigh around 7.8 oz to 8 oz giving you a popular midweight option.  Remember, you can always add weight, but can't take it away.
Can you explain the difference between a graphite and carbon fiber pickleball paddle?

Graphite: Our graphite paddles give a good blend of power and control.  

Carbon Fiber: Our carbon fiber paddles give more of a textured and durable.
How do I determine the handle length that is right for me?

Grip length depends on player type.  If you have a two handed backhand you'll want to use a paddle with a longer handle giving you room to use both hands, like our 5.5" Mav Pro.  If you don't want or need the extra length, then you may want to go with a paddle that has a shorter handle giving you a paddle with additional hitting surface area, like our 4.75" Mav Pro E.
Are your paddles suitable for both indoor and outdoor pickleball play?

Yes! Our paddles are good to use for both indoor and outdoor play!
Are your paddles approved for use in official pickleball tournaments?

Yes, all of our paddles are USA Pickleball approved. We have many players, including sponsored players, that participate in tournaments across the country!
What is the recommended paddle face texture for optimal spin?

Our Pro Series paddles use a T700 3K Force Field Carbon Fiber gritty surface that will give you optimal spin with each hit.
Can you provide guidance on paddle shape and its impact on gameplay?

Paddle shape depends on player type. There are 3 main paddle shapes:

Traditional Shape: The Holbrook Performance paddles are more of a traditional shaped paddle giving players a large, controlled sweet spot while keeping good power and control.

Elongated Handle Shape: The Holbrook Mav Pro paddle has an elongated handle giving players room to use a two handed backhand.  This provides more leverage and speed to your shots.

Elongated Face Shape: The Holbrook Mav Pro E paddle has an elongated face giving players the max amount of paddle surface area.  This provides an extended reach to return balls coming your way.

Our customer support is available Monday to Friday: 9am-5:00pm.
Average answer time: 12h
Shop Around
Want to demo a paddle?
Use our store locator to find a paddle near you. This way you can demo a paddle BEFORE you buy.